The only Singaporean model to be featured in a Marc by Marc Jacobs ad. A producer at the world's first urban farming learning platform and a host/presenter, Nadia (@skinnykatwoman) is a champion for diversity and a strong advocate for living consciously.
What is your story?
I try to live everyday like it will be my last since you never know what tomorrow brings, am I right? (jk) But in all seriousness, I take as much care as possible to be present everyday and practice mindful awareness in everything I do, both in my professional work and during times of leisure. I think it's so important to stay grounded and not lose sight of what it means to be a 'human being' and not a 'human doing'!
You are a big champion of eco-friendly and sustainable living, which is really amazing. How did you get into this lifestyle?
I've written extensively about this journey on my website here, but in a nutshell, it came about through a series of self-reflections on my role as a caretaker of this planet, conversations with friends and the exposure to information on adopting this more mindful way of living.
What advice on getting started would you have for someone who wishes to adopt a more sustainable lifestyle?
I'd suggest 2 things to remember:
1) Be kind to yourself! No one is perfect, so start small with things that are easily achievable in the beginning and work your way up.
2) Find a community. This could be in the form of joining Facebook groups (I find Journey to Zero Waste Life in Singapore very supportive!) or even finding a group of friends who are open to having conversations around the lifestyle. It's so important to know that you're not alone on your journey and there are others out there on different parts of their journey too.
Diversity can mean different things to different people. What does diversity mean to you?
I used to see it as a purely external thing, but the older I get, the more I see diversity as something much deeper than that. We're all such complex living beings with differing ways of seeing, and that is totally ok. This is what diversity means to me now.
Society has become more inclusive over the years but the situation is still far from ideal. Where do you think boundaries still need to be broken?
I think we still have room to do better in terms of inclusivity in everyday life, especially when it comes to raising awareness about the experiences of minorities in Singapore. I'm so glad that platforms such as Minority Voices exist to shed light on this, because it's so important to keep conversations around inclusivity going. If we stop, we are effectively allowing for inequality and discrimination to perpetuate in our culture.
You have worked with many notable brands, including Marc by Marc Jacob, Sephora and Mark and Spencers. How do you think diversity has helped or hindered you?
It's unfortunate to say I have encountered instances where the colour of my skin impeded my chances of getting the job during the course of my modeling career. However, I choose not to dwell on the negative and focus on the positive. 
The positive is that there ARE brands who see the importance of being more inclusive, and there's a rising awareness on doing this not for the sake of doing it but to understand that by doing it they are being more conscious of the type of messaging they put out.
Some of us are born extroverted with the gift of public speaking, and others work hard at it. As a host, presenter and model, which are you and do you have some tips for our readers?
It's all about practice really! The more you put yourself out there the more you'll build the confidence. To be honest, I grew up being a very shy kid, so it wasn't always easy for me. Funnily enough it was because I wanted to stop being shy that I actively found ways to try and be able to articulate myself better and that came through not only via speaking but also through writing. So keep expressing yourself and eventually it'll come naturally! 
Let's talk beauty! Everyone has a different definition of beauty. To us, beauty is about living and projecting our lives with confidence. What does beauty mean to you?
Beauty is about being unapologetically yourself, after all, there's only one you.
You feel the most beautiful when…
I find quiet time for myself to just be, & being mindful that being alive is such a gift.
Lastly, what is one quote that you live by?
"Never waste your time trying to explain who you are to people who are committed to misunderstanding you." - Dream Hampton
About the writer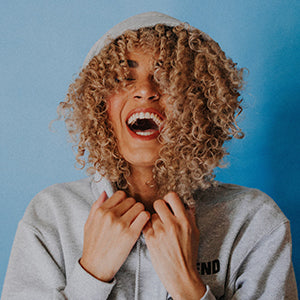 Julia Mia
Julia Mia, a woman who needs her full 8 hours of beauty sleep, is an avid fan of coffee with a fiery passion for writing and a flair for creativity. When she's not at her desk typing away, you'll find her in the kitchen, cooking Korean cuisines with her kids in the kitchen.