Hyaluronic Acid is commonly found in many skincare potions but what is it exactly and why is it good for your skin? We find out more about this oft-misunderstood skincare ingredient.
A key ingredient in many skincare products, Hyaluronic Acid often does not get the same kind of attention as other more exotic active ingredients. But Hyaluronic Acid is key in maintaining well moisturised and balanced skin helping to plump skin, reducing the appearance of fine lines and wrinkles and leaving your skin with the soft dewy glow that is so sought after.
Hyaluronic Acid, also known as Hyaluronan is a clear gooey substance that is produced naturally in your body. Already found naturally in your skin, it can also be found in your joints and eyes and can hold an astounding thousand times its weight in moisture helping prevent moisture loss in your skin and joints.
"Hyaluronic Acid is a type of naturally occurring sugar molecule that acts like a moisture magnet, helping bind water to the collagen in your skin." explains Hong Lyeon, Founder of Asian Beauty X. "This water retention ability is what makes Hyaluronic Acid such an effective ingredient in moisturizing skin care products."
5 Reasons You Should Use Hyaluronic Acid
Keeping skin well moisturised is one of the keys to healthy and youthful looking skin and if you aren't already using Hyaluronic Acid in your skin products than here are 5 good reasons you should:
1. It works well for everyone! It doesn't matter your skin type or condition, sensitive, acne prone or oily, Hyaluronic Acid will not only work for you but is essential to healthy, well-moisturised skin.
2. Ever forget to water your houseplants? Well, your skin pretty much reacts in a similar way. Dry or under moisturised skin can appear dull and lifeless while well moisturised skin will appear plump adding to that youthful radiance and healthy glow.
3. When skin is well hydrated and "plumped", fine lines and wrinkles will have a diminished appearance. This is true even for some of the deeper wrinkles and this makes Hyaluronic Acid ideal for those looking to achieve more youthful looking skin.
4. Ideal for acne affected skin, Hyaluronic Acid can help reduce the redness and visibility of acne and promote healing by regulating inflammation levels and signaling the body to build more blood vessels in the damaged area.
5. If the first 4 reasons weren't good enough to convince you, recent research has also suggested that Hyaluronic Acid also has an antioxidant effect that helps neutralise environmental free radicals that may damage your skin cells and cause premature ageing.
Is Hyaluronic Acid Skin Safe?
Understandably, any substance that has the word "acid" in its name could raise some alarm bells. Hear the word acid and most of us would picture a liquid slowly eating through the laboratory workbench but Hyaluronic Acid is actually very safe to use.
"Because Hyaluronic Acid already occurs naturally in your body, adverse reactions are extremely rare and supplements and skincare products containing Hyaluronic Acid are generally very safe and effective." explains Hong Lyeon. "It is very different from other acids used in peels and for exfoliating."
If you pick up any of your moisturising products you already use, odds are that you will find Hyaluronic Acid as one of the active ingredients in it. Hyaluronic Acid generally plays well with other ingredients too and can easily be incorporated with many of your existing products.
Who Should Use Hyaluronic Acid
Hyaluronic Acid is suitable for all skin types but it is particularly useful for those of us with dry or mature skin. As you age, the natural production of Hyaluronic Acid, just like collagen and elastin, begins to decrease and this contributes to overall skin ageing.
Environmental factors such as sun exposure or air-conditioning and heaters can also take its toll and this is where Hyaluronic Acid products can benefit your skin by providing your skin with a shot of moisture that will help keep your skin supple.
Being a naturally occurring substance that is also produced by your own body, adverse reactions to Hyaluronic Acid are rare. This makes it suitable for  sensitive skin types. So if you are sensitive to other humectants such as Butylene Glycol, then Hyaluronic Acid might be right for you.
Optimising Absorption
Although Hyaluronic Acid is produced by your body, Hyaluronic Acid needs to go through a chemical process in order for it to be formulated into our skincare products. Due to its large molecular weight, Hyaluronic Acid in its natural form is not easily absorbed instead drawing moisture to the surface of your skin.
In order to improve the absorption of Hyaluronic Acid, skincare formulators have found innovative methods of adapting Hyaluronic Acid in order to optimise absorption and improve results. While there are several ways to do this, the two most commonly used are Hydrolyzed Hyaluronic Acid and Sodium Hyaluronate.
Hydrolyzed Hyaluronic Acid involves breaking down Hyaluronic Acid via a chemical reaction with water. This type of Hyaluronic Acid works on the surface drawing moisture from around the environment to keep your skin supple.
For a better result, many skin care formulators extract its sodium salt to get Sodium Hyaluronate. This type of Hyaluronic Acid has a lower molecular weight that allows it to penetrate deeper into your skin. This form of Hyaluronic Acid is far more stable and less susceptible to oxidation which makes it popular in skincare products.
Products like the Hyaluronic Acid Toner Plus from Isntree use up to 7 forms of Hyaluronic Acid to deliver the skincare benefits deep into your skin ensuring that you get the full benefit of using a Hyaluronic Acid product.
Final Words
Regardless of your skin type or condition, odds are that you will probably get a ton of benefit from using a Hyaluronic Acid product. As a powerful humectant, those with dry or mature skin types would achieve the greatest benefit.
But too much of anything good can also be a bad thing. As a powerful humectant, if you use too much Hyaluronic Acid on your skin, especially in dry conditions where humidity is low, Hyaluronic Acid might actually start pulling moisture from deep within your skin leaving your skin in a drier state.
Though lesser of a concern in the tropics, in order to prevent this from happening, apply your product on slightly damp skin and always use an occlusive such as a moisturising cream or lotion to lock it in and you will be sure to enjoy many happy skin days ahead!
About the writer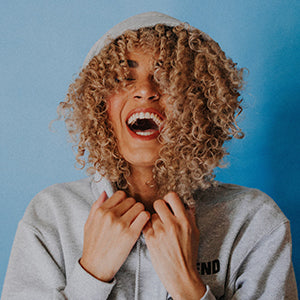 Julia Mia
Julia Mia, a woman who needs her full 8 hours of beauty sleep, is an avid fan of coffee with a fiery passion for writing and a flair for creativity. When she's not at her desk typing away, you'll find her in the kitchen, cooking Korean cuisines with her kids in the kitchen.