Your skin is your body's largest organ and the health of your skin is vital to your overall well-being. You may notice when you are sick or not feeling well, your skin may look dull and tired. Your outsides can be a great reflection of what's happening inside. This is why a holistic approach to skincare is so important.
When it comes to skin health, many of us tend to only focus on the skin-care routine itself. What I learned in my health journey is that while your skin-care routine is a powerful ally in your quest for healthy skin, in many cases, you may be treating the symptom, but not the underlying cause. 
This is where having holistic skincare comes into play. Holistic skincare is not simply another term for clean or organic skincare, but rather, it is a practice of a balanced lifestyle that involves treating the skin by healing the body as a whole. It is an act of engaging in practices that supports and heals the body, mind and spirit.
Skin health is based on a number of internal factors – more specifically, what's happening in the gut. Over the years as a health coach, I discovered the secret to glowing skin is to start with the inside. Tending to your gut is just as important for keeping the skin healthy and vibrant. It may not seem obvious, but your skin and gut have a lot in common.
To keep it simple, your skin acts as a barrier to protect against bad germs and bacteria entering your body, and so does your gut. A huge part of your immune system is also located in your gut, this is one of many good reasons why you should start eating right for a healthy gut.
Improving Gut Health
Everyone is different but if you want to improve your gut health, here are some broad principles that apply to all.
Try food and drinks that are naturally rich in probiotics, like kombucha, raw sauerkraut, and yogurt with no added sugars or flavours.

Avoid foods that are high glycaemic loads (GL) as they can affect the skin adversely and aggravate skin conditions such as acne and eczema. A diet low in processed foods and added sugars can decrease the occurrence of acne.

Try foods high in omega-3 fatty acids, such as fish, olive oil, nuts, and seeds. They are anti-inflammatory and can reduce inflammation on the skin.

Add more antioxidant-rich foods to your diet, including: Carrots and other yellow and orange fruits and vegetables, Spinach and other green leafy vegetables, Tomatoes, Berries, Nuts, Salmon and other fatty fish
The Whole-listic Approach For Healthy Skin
While diet plays an important role in determining our skin health, I always remind my clients that skin health is whole-body health - that means our mental and emotional well-being too. Here are my quick tips for a non-toxic lifestyle habit we can all start practicing for overall health and glowing skin.
01 Stress Management
It doesn't have to be complicated. Try to spend at least 1-2 hours a day doing something that relaxes your mind. If you like to listen to music, put it on! If you like to dance, dance! If talking to your friends makes you feel better, call them! My favourite ways to wind down are breathwork, meditation and yoga practice.
02 Get Adequate Sleep aka 'Beauty Sleep'
Probably no need for an extensive explanation here. Sleep is very important for your body. It is the time where the cell in your body repair themselves after a long day of work. Extra tip: Lavender oil can promote a night of better sleep, try using it on your diffuser.
 03 Stay Hydrated
Your body is about 70% water. We need water for our bodies to function properly, including our skin. Having proper hydration can show a world of difference in our skin and mental health, including reducing signs of ageing, preventing headaches and boosting your energy. Try at least 8 glasses of water a day for a start. 
04 Choose The Right Skincare Products For Your Skin
We all have different skin types so it is best to use what is suitable for your skin. For me, thankfully I don't have many skin problems but it's still important to have a basic skin-care routine like face cleanser and moisturizer. I have recently found Jeju Botanical pH Balancing Cleanser from The Pure Lotus to be quite gentle as it leaves my skin refreshing feeling without overdrying my skin. This cleanser is a natural antibacterial and rich in antioxidants to brighten and protect your skin. It is also sulfate-free making it a gentle cleanser suitable for sensitive skin.
Another of my favourite at the moment is the Aromatica Organic Golden Jojoba Oil. I especially love this as it can be used for your whole body! It is made from 100% organic extra virgin Jojoba Nut Oil cold-pressed to preserve its moisturising, nourishing and healing benefits. It can easily absorb into your skin and doesn't clog up pores. I have been using it for my belly mostly since I'm pregnant and I want to reduce the appearance of stretch marks.
Disclaimer:
This information is intended for educational purposes only and is not exhaustive in detail. Speak with your healthcare provider before adding any new supplements to your wellness regimen. It's also important to do your own research to see if a particular dietary supplement may be safe for you. Consider any medications you are taking, your stage of life (e.g., pregnancy or breastfeeding), and any health conditions. 
In the article
Skin type
Combination Skin, Dry + Flaky Skin
Skin concerns
Dullness + Unevenness, Pore Care, Sensitive Skin
Skin concerns
Fine Lines + Wrinkles, Skin Elasticity
About the writer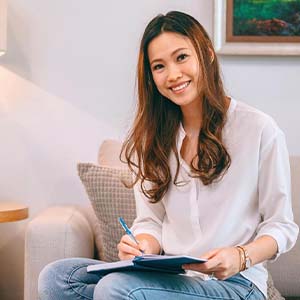 Nooky T. Bhojwani
Nooky is a holistic a passionate holistic yoga teacher and health coach. When Nooky is not practicing and looking for new holistic health and wellness practices to try, she loves sharing her wellness journey on her blog, Truly Body Mind, to help everyone to live a more balanced and healthy life.