Inspired by the Swedish way of life - the peaceful balance of the eco-conscious way of living and being mindful of nature. SKÖG was started on the east coast of Sweden in 2018 by Gautami Dahiya with an eye on capturing the very essence of Swedish bliss. We spoke to Gautami about how she founded SKÖG and the difference in beauty standards between Sweden and India.
How did you find your way into the beauty space?
I have always had very sensitive skin since childhood so I found my best friends in the kitchen when it came to skincare. While I moved from one country to another for education and work, I always took the natural ingredients readily available to use for my skin and hair care. While I was in Sweden working in the business of art, I found some very interesting and unique ingredients which had great benefits. In no time, my friends and colleagues started asking me about my skin and hair care routine and started using the formulations I made. It started to spread by word of mouth and I knew I was onto something.
In 2019 I came to India to see my family but due to COVID lockdown, I was stuck in the country. I knew I could not stop so I started manufacturing the products in India itself while still maintaining the quality, however, the ingredients are still researched and sourced from Sweden.
There is a growing number of clean and vegan skincare brands today, what makes SKÖG different?
SKÖG is a unique brand when it comes to the ingredients used. All products can be used by both men and women. We use exotic Swedish ingredients like Birch Sap (water tapped from Birch trees 3 weeks in a whole year), Arctic Berries and Swedish Elderflowers, just to name a few. All ingredients used are of the highest quality and natural. Even the preservatives used are natural certified and all our products are PETA certified for being vegan and cruelty free.
Furthermore, all our products are gender neutral.
So SKÖG was created to capture the very essence of Swish bliss. What do you mean by this? 
Life in Sweden really coexists with nature. The freshness of the morning breeze on your skin or the scent of the forest cannot be imagined but experienced. We try to capture such experiences in our products through the consistency, texture, fragrance and feel of our products on the skin.
And how is beauty perceived differently in Sweden and India? What are the similarities and differences? 
It is really interesting for me to see the differences when it comes to beauty between both the places. In Sweden, or even Scandinavia, I see that women are more accepting towards ageing and natural skin phenomenons which some might consider as imperfections or flaws. They are more minimalists and do not believe in time consuming, multi-stepped skin care routines, they would rather use a few products to maintain their skin and hair. Even when it comes to ageing, people want to age positively, not necessarily denying ageing but doing it in a polished way.
On the contrary, in India, I see people chasing a beauty standard of having flawless skin. The consumers want to look younger and have a perfect glass skin and complexion for which they are willing to even go ahead for some "tweakments". Consumers therefore prefer longer skincare routines, different products for different skin concerns which sometimes might or might not work but they are always willing to take that leap and try the products / treatments
However, slowly, people in India are moving towards embracing their natural beauty instead of a set of beauty standards but it is quite a slow shift and will take time.
What do you think the rest of the world could learn about beauty from Sweden?
I think one of the most lovely things is to not overdo anything when it comes to beauty. Embracing each aspect of your skin, your hair and body, being comfortable in it and maintaining it to enhance your own features. We are made of nature and only things coming from nature can keep us healthy and beautiful!
As you have experienced, everyone has their own definition of beauty, but what does beauty mean to you?
Personally, beauty to me is imperfect. I believe the notion of beauty should be pleasing to oneself above all. The most beautiful women I have ever come across are the ones who look effortlessly gorgeous. Rather than using multiple skincare products, crash dieting, and plastic surgery to make themselves feel beautiful and to fit in with someone else's vision and frame of beauty.
Last question, we're intrigued, what does your daily skincare routine look like?
I follow a very simple three step skincare routine which is basically a cleanser, hydrating cream and sunscreen. Apart from this, I exfoliate my skin twice a week using an all natural DIY scrub and I continue to use DIY face, body and hair masks. However, as I continue to research and develop more products for SKÖG, soon my DIY scrubs and masks will be replaced by those.
About the writer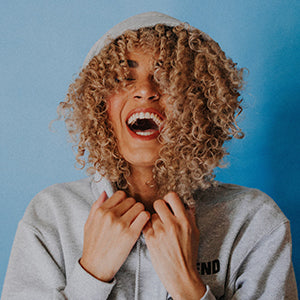 Julia Mia
Julia Mia, a woman who needs her full 8 hours of beauty sleep, is an avid fan of coffee with a fiery passion for writing and a flair for creativity. When she's not at her desk typing away, you'll find her in the kitchen, cooking Korean cuisines with her kids in the kitchen.